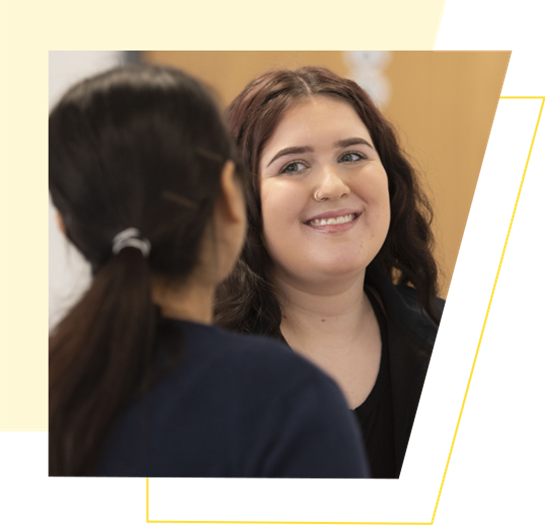 A blog by Chloe
Chloe is our Housing Administration Apprentice.
She's appreciated by colleagues and customers alike as she's super helpful and always works with a smile!
Background
Throughout school, I didn't have a clue what I wanted to do with my life. I started off wanting to be a midwife, then I got to high school and completely changed my mind and wanted to be a security guard. I saw an apprenticeship going with WH, my dad had a chat with me about it and explained how I love talking to people and thought my personality would fit a customer facing role. When leaving school, I knew that education wasn't for me. I struggled to concentrate for long periods of time, and I was never the most academic. However, I noticed when applying, that WH weren't solely focused on grades, it was more about the individual and their growth. When I started my apprenticeship, everyone was so warm, welcoming and willing to help. I could work as well as attending college, so it was the best of both worlds.
My apprenticeship
When finding out I had secured my apprenticeship, I was over the moon! I couldn't have been happier. I met all the other apprentices and we all just clicked. We all helped each other along the way and supported each other from the very beginning.
My first placement was with the Tenancy team. I loved it. It was a job that I never knew existed and it opened my eyes to the world of housing. I went on visits with the Tenancy Officers and did lots of the behind the scenes admin work. It was so interesting seeing the types of things WH does for its tenants. It was a sense of achievement knowing we'd done our best to help and support a resident.
I then moved on to working with the Customer Services team. This was another role I really enjoyed, again the team were so welcoming and friendly. I was so nervous as it was front facing and you never knew what someone could ask you - but it is one of the most rewarding jobs that you could have! The team are always on hand to help too, so you're never alone. It shows me how we really try to go the extra mile for customers and deliver our promises.
The future
In my future, I would love to secure a permanent role at WH. I love working here, I feel supported yet there is always a new challenge to help me develop. I've even joined one of our staff forums, Age and Gender, as I feel so welcome and would love to help develop a more inclusive workforce, to best serve our diverse communities. Working with WH has pushed me out of my comfort zone and allowed me to achieve things I never thought I could achieve. My confidence has skyrocketed, and I couldn't be more grateful for the opportunity and to those that have supported me in my journey. Thank you!