Our offer to you
Our people enjoy inspiring roles in a collaborative working environment and enjoy a range of benefits to reward their good work. We were highly commended by judges in the Best Employer category at the 2023 Housing Heroes Awards.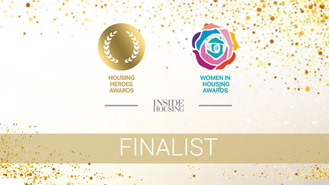 Agile working
We believe that work is something you do, not somewhere you go. Our agile approach means our staff have the flexibility in their day to manage other commitments, maintain a good work-life balance and still perform at their best.
Holiday
We offer new staff a generous holiday allowance of 24 days plus bank holidays, which increases the longer you are with us. If you need more, we also have a holiday purchase scheme for up to five extra days each year.
Pension 
We offer an excellent pension scheme through the Local Government Pension Scheme (LGPS) with employee and employer contributions.
Real Living Wage Employer
We recognise that under 25s have the same living costs as people aged over 25, and that's why we're committed to paying all our staff a real living wage that reflects the cost of living. 
Green employer
We have schemes such as agile working in place to ensure we have minimal impact on the environment. With discounts on National Express travel, our cycle to work scheme, and free home energy health checks, we are striving to make our city a cleaner and greener place.
Equality forums 
We are proud of our diverse workforce, representative of the city we serve, and we believe that people perform best when they can be themselves. Diversity and inclusion are key to our success and we encourage colleagues to join our equality forums.
Training
We encourage staff to develop their knowledge and learn new skills. Through our My Learning Hub platform you'll have 24/7 access to a range of learning and development tools for a flexible online approach to learning. We also provide opportunities and support for career advancement.
Gym discount
Thanks to our close working relationship with the city council, we can provide amazing discounts on some of Wolverhampton's local gym memberships, including WV Active.
Local discounts
We offer a range of discounts to some of the city's finest restaurants and shopping outlets.
Wellbeing
A healthy workforce is a priority for us. We have partnered with Paycare to help cut the costs of check-ups and treatment. Services include occupational health, confidential counselling and physiotherapy.
Financial support
We've teamed up with Wolverhampton City Credit Union (WCCUL) and other financial bodies to encourage employees to save or borrow affordably. You can even buy a car through our salary sacrifice scheme.