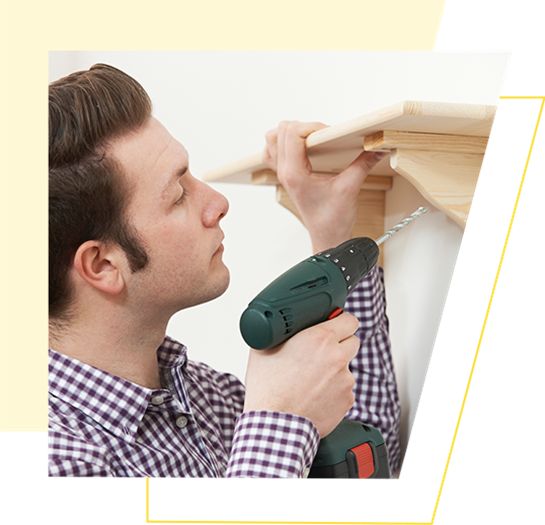 Home improvements
We understand that you may want to make changes to your home. You can paint or wallpaper inside your home at any time, but for most other changes you will need our written permission first. There's also alterations you are not allowed to make, please see further details on this page.
What is not allowed

You're unable to make alterations to your home:

if your rent account is in arrears. You will need to pay these first before we will consider your request for alterations
if you are an introductory tenant, meaning you're in the first year of your tenancy
if you are looking to alter communal areas of the building or use the communal areas to carry out the works to your home
if you live in a flat on the first floor or above and request wood or laminate flooring. This is because it can be very noisy
if the works involve structural changes, such as:

loft conversions
patio doors, except if there is an existing opening, such as a window with lintel
removal of walls, except for disabled adaptations requested through social services
fitting a conservatory

Right to compensation for alterations

If you have our permission to carry out alterations to your council home, you may be entitled to compensation at the end of your tenancy. This comes under the Secure Tenants of Local Authorities Regulations 1994.

When you end your tenancy, to claim compensation you must apply in writing within the period starting 28 days before, and ending 14 days after your tenancy comes to an end.

You will have to include certain information, for example, a letter of consent from us, receipted invoices, copies of building certificates, and planning permission if required.
Once you've asked for permission by completing the online form, your Tenancy Officer will get back to you and let you know whether we need more information within five working days. Depending on the type of alterations you are planning to do, we may inspect your home and might need to take advice from specialist services. We will let you know our decision in writing within 28 days. If we think it's going to take longer for us to make a decision, we will contact you to let you know. 
We will not refuse permission without good reason. In some circumstances, we may give permission with special conditions attached to it. These conditions may relate to the standard of work and how it is carried out.

There may be asbestos in your home. Asbestos is safe provided it is not disturbed. DIY such as drilling or sanding may release asbestos fibres into the air which can be hazardous to health. Learn more about asbestos in your home
Please note, there is a delay in processing permission requests at this time. We will get back to you as soon as possible. Thank you.