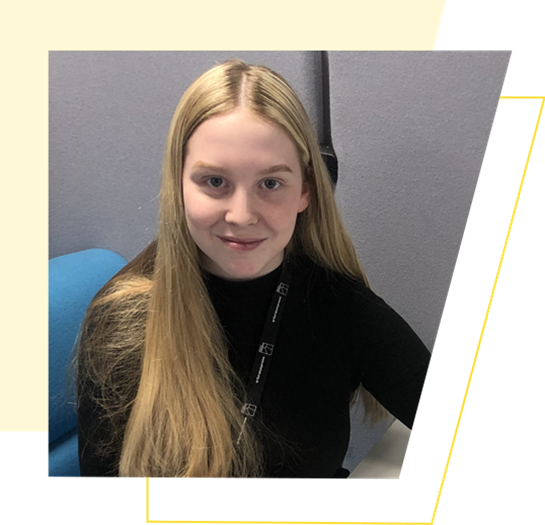 A blog by Daisy
Daisy is our Apprentice and Customer Services Advisor.
Check out how she's been making a real difference supporting customers and colleagues.
Background
As I left school, I had no clue what career path I wanted to go down, but I knew that I wanted to do an apprenticeship as I didn't want to stay in full time education any longer. As soon as I started at WH I instantly loved it. Everyone was so welcoming and made me feel very comfortable – I wasn't just the newbie. The benefits of my apprenticeship is that I'm learning at college whilst gaining experience in the job. I also get paid which helped me fund my driving lessons. One more goal ticked off my list!
My apprenticeship
I first started my apprenticeship in the One Stop Shops and some people may think I was thrown in at the deep end - but I loved it! I love being kept on my toes and being busy. I enjoy supporting customers and I especially loved working with the team. It showed me how those that work in housing really do go the extra mile to support our customers. From then on, I knew I wanted a more permanent role at WH.
A 12 month contract job came up to work as a customer service advisor and I went for it. I revised so much as I knew I was up against more experienced people than me. I couldn't believe it, I went for the interview and the same day I found out I had the job. I was so happy!
Since Covid-19 hit, so much has changed, and we've done everything we can to support customers where needed. I'm happy to be flexible and I now work in our contact centre, Homes Direct, with another very supportive and lovely team. Although we all work remotely at the moment and there has been lots of change, we all work together to help with any queries. It's been a busy period but I'm really appreciating supporting others and the opportunities that have arisen during a difficult time. I will forever be grateful.
The future
In the future I wish to remain at WH, finish my apprenticeship, continue my temporary role and move into a permanent one. Everyone in the company has helped me gain so much knowledge and pushed me to be my best. I have gained confidence throughout my time here and hopefully I can keep growing in myself and with the organisation.
If you know of anyone that is thinking of going for an apprenticeship, as soon as they come up – go for it! I would certainly recommend it. I have learnt so much more than I believe I would have otherwise, as work based learning is much better for me. It's pushed me out of my comfort zone and has been the best decision I've made.