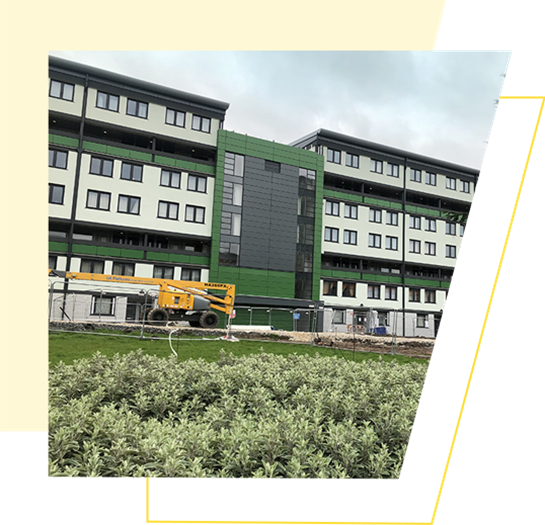 Planned improvement projects
We manage a large city-wide programme of planned maintenance and improvement works to keep our properties safe and comfortable to live in, and a rear fencing programme to replace and improve fencing to thousands of homes.
Improvement works
We manage a large city-wide programme of planned maintenance and improvement works to keep our properties safe and comfortable to live in. We have multiple projects running at any one time, working with our construction partners United Living and Wates on everything from roofing to heating and fire safety improvements. The current programme runs until 2028 and will deliver more than £40 million worth of improvements for our customers this year alone. 
High-rise infrastructure
This is an ongoing programme of works covering our high-rise blocks at Boscobel, Lakefield, Heath Town and Merry Hill at present, with Graiseley due to commence during 2021. Residents will benefit from a range of fire-safety improvements including sprinklers, fire doors and upgrades to electricity and water systems to improve safety, reliability and energy efficiency
City-wide roofing
We are replacing pitched roofing on low-rise flats on Bridgnorth Road, Lower Street and St. Michael's Court, with work due to commence during 2021 on Warstones and Castlebridge Gardens. We have also carried out roof replacements to numerous houses across the city and further surveys will be carried out to establish where roof replacements are required.
City-wide heating
This is a five-year programme due to start in autumn of 2021, across more than 2,500 properties. We will be upgrading and replacing boilers and renewing heating systems to keep homes warm, comfortable and energy efficient.
Kitchen and bathroom replacement
Due to start in 2021, we will be updating and replacing kitchens and bathrooms, following on from the large-scale Decent Homes project several years ago. For kitchens the work will include new base and wall units, worktops, sinks and taps, and for bathrooms a matching white bath, hand basin and toilet. Some properties will also be due for rewiring of electrics which will also be completed under this programme.
The programme will start with homes that are managed by Bushbury Hill EMB and continue in Wolverhampton Homes properties across the city, over the next five years. Surveys will be carried out to establish the extent of works required to individual properties and we will notify customers in advance when appointments can be made.
Heath Town development
We are now more than two years into the five-year Heath Town transformation programme which has seen homes fitted with new energy-saving and noise-reducing double glazing and enhanced fire safety measures. Following consultation with customers CCTV and improved lighting have been installed in communal areas. The cladding to the deck access blocks, while fully compliant with all fire safety regulations, was also replaced with a new system in order to increase energy efficiency and reduce future disruption for customers.
Works have begun during the summer of 2021 on the high and medium rise blocks across the estate, providing fire safety measures including the introduction of sprinkler systems. The blocks will have all windows replaced and an external wall insulation system will be installed to improve the thermal efficiency and help to reduce fuel costs for our customers.
Residents in Heath Town have also benefited from the creation of new parking areas, green spaces, play areas and sports pitches, and the area will also see the development of more than 100 new homes.